The Hollandse Kust Zuid Wind Farm Zone project is one of the biggest offshore wind projects in the world and the first in Europe to be totally subsidy free. It will also use the largest offshore wind turbines available to date and feature a new design of monopile foundation.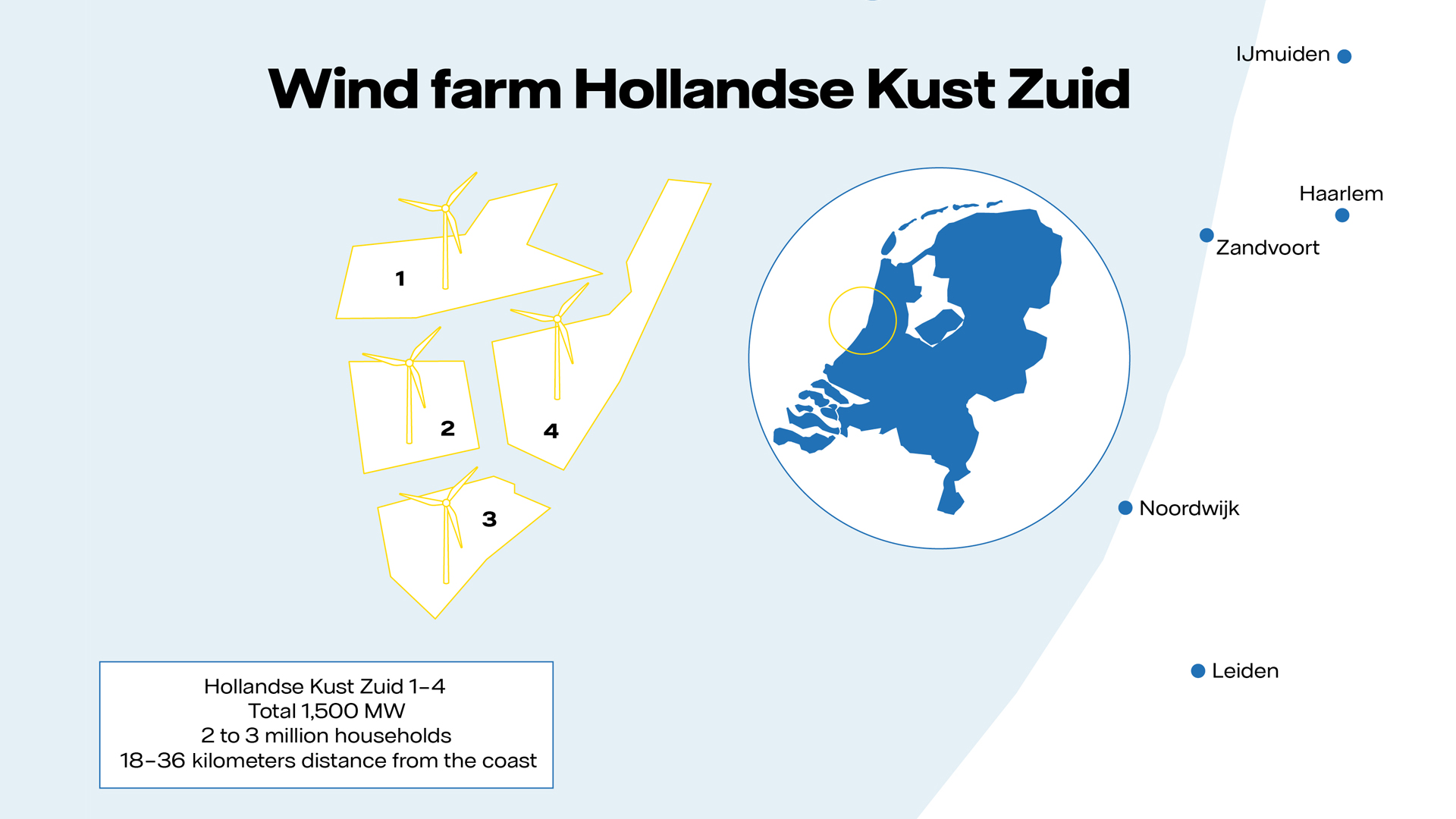 The project spans four 350 MW sites in the Dutch North Sea, offered to tender in separate lots by the Dutch Government, two in 2017 and two in 2018. In a ground-breaking move, the Government invited companies to submit zero-subsidy bids for these projects, using a full comparative assessment scoring system, rather than price, to award contracts. Vattenfall was confirmed as the winner for Hollandse Kust Zuid Wind Farm Sites I and II (HKZWFS I and II) in March 2018 and HKZWFS III and IV in July 2019.
Construction
In total, the four HKZ sites have a combined size of 225 km2 and are being developed by Vattenfall as one project. The company expects to start construction this year with a view to completion in 2023. In a significant development, Siemens Gamesa is supplying 140 of its latest 11 MW capacity turbines for Hollandse Kust Zuid project. The turbine is an upgraded version of its 10 MW SG DD-193 direct drive offshore wind turbine, originally planned to be used Vattenfall.
According to the company, the capacity upgrade, available under certain site conditions, means fewer turbines are needed to generate the same amount of energy. This also reduces installation, operations, and maintenance costs and thereby contributes to further reductions in Levelized Cost of Energy for offshore wind. The environmental impact of installation and operation of the wind farm is also reduced.
Site work start
Scour protection work is due to start on site in June 2021, followed swiftly in July with the first monopile foundations being supplied by SIF. The foundations are a new design. Instead of using the traditional transition pieces, the new design sees the work platforms and ladder attached directly to the monopile. Vattenfall believes this will increase installation speeds and reduce costs. They will be transported (from Maasvlakte in Rotterdam) and installed by Seaway 7 using foundation installation vessel Seaway Strashnov. Monopile installation will continue, with a winter break, into the summer of 2022.
The 315 km of 66 kW inter-array cables connecting the turbines to TenneT's two offshore substations for the zone are being supplied by Prysmian and will be installed by Seaway 7 in 2022 and 2023. The turbines themselves are planned for installation from April 2022 to April 2023. Cadeler's installation vessel Wind Osprey will be used to transport (again from Maasvlakte) and install the wind turbines.
The first turbines of the Hollandse Kust Zuid Wind Farm are expected to start generating electricity in 2022. By mid-2023, all 140 wind turbines should be operational. A new operations and maintenance hub for the project is under construction at the Port of Ijmuiden. Windcat Workboats has also been contracted for the supply of hydrogen-powered crew transfer vessels (CTVs) for the maintenance of the wind farm.
At a glance
Owner: Vattenfall

Total capacity: 1.5 GW (expected to generate enough electricity to power 3 million households)

Wind turbines: 140 Siemens Gamesa 11 MW

Location: 18 - 36 km off the coast of Zuid-Holland Province

Size of the site: 225 km2

Water depth: 18.1 -27.8 m

Foundation type: Monopiles

Construction Start: 2021

Fully operational: 2023

Operation and maintenance base: Ijmuiden

Main suppliers: Siemens Gamesa, SIF, TKF, Prysmian, Windcat Workboats

Installation: Seaway 7 (a unit of Subsea 7), Cadeler (previously Swire Blue Ocean)