February 27, 2023
Join the Partners for International Business (PIB) cluster Offshore Wind Ireland!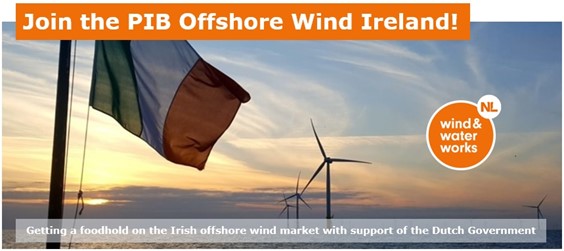 Are you active in the offshore wind sector (fixed and/or floating), port development or hydrogen, and interested in the opportunities in Ireland? Consider joining the Partners for International Business (PIB) cluster Offshore Wind Ireland!

In this PIB, the Dutch government, businesses and knowledge institutes will explore opportunities related to offshore wind developments in Ireland in a joint-up way. The PIB will allow for stronger networks, better visbility in the Irish market and additional Dutch government funding to support a multiannual engagement.

Partners for International Business (PIB)
This PIB program is a 3-year action/strategy plan aimed at realizing the international ambitions of Dutch companies in a public-private partnership.

Holland Home of Wind Energy (HHWE) is the coordinator of this PIB, in collaboration with the Netherlands Enterprise Agency (RVO) and the Netherlands Embassy in Dublin.

PIB members will avail of the capacity, funding and networks of all three participating entities, ensuring added value to your international network, promotional activities and exposure in the Irish market.

Costs membership and benefits
For an annual fee of €3.500, PIB members can take part in activities such as:
the Wind Energy Ireland trade show with the Netherlands Lounge;

inbound- and outbound (trade) missions;

special matchmaking events;

focused Wind and Water Works communication strategy to promote the industry;

partner search; and

mapping out opportunities for joint research and innovation
and members will further gain access to
services of a local liaison officer;

the Embassy's, RVO's and HHWE's (international) networks; and

a special K2K and G2G component to enhance collaboration between knowledge institutions and the governments of Ireland and the Netherlands.
Deadline for registration: March 1, 2023.
More information and registration via THIS LINK