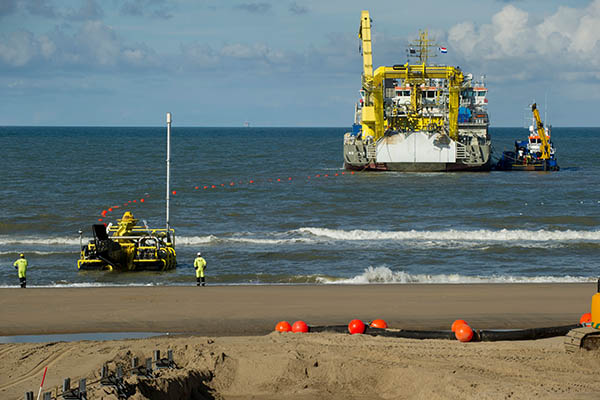 Cabling is a critical component of offshore wind projects. There are two main kinds of cables required for an offshore wind farm: array cables linking individual wind turbines to the substation at sea and export cables which transport electricity from the substation to the onshore network.
Future-proofed cable capabilities
Array cables are typically 66kV nowadays, although 33kV cables have been used for early offshore wind farms. The increase to 66kV means more capacity can be connected whilst reducing cable lengths and switchgear bays (on substations). Meantime, export cables are high voltage cables that connect the offshore substation to the onshore network. There are two types: 3-core AC cables are typically rated 132-245 kV (enabling an export of 350-400 MW per cable), whilst heavier DC cables, generally used for longer distances, can export larger capacities but have consequently more expensive substation costs.
There will be a host of accessories and design options dependent on the project, whilst protection for the cables (both during and after installation) is also essential. As well as the cables themselves, associated work and costs are for surveys (to determine route and identify seabed conditions and presence of UXOs), route clearance, transporting the cables to site, cable-laying vessels, cable burial, cable pull-in (to the turbine, substation, or shore), electrical testing and termination, and cable protection systems.
There are a range of different types of equipment and vessels available, each with different strengths for different conditions.
The Dutch Approach
It is critical to have experienced cable installation contractors and equipment suppliers. To meet demand for offshore wind projects, Dutch companies have invested heavily in the next generation of cable laying technology and vessels. New cable-laying vessels are equipped with large cable carousels with a capacity of more than 5,000 tonnes, for example, plus offshore cranes that enable them to lay heavy and long export cables. Modern vessels have been developed in anticipation of future market requirements for limiting environmental impact further in challenging cable installation works, some equipped with a dynamic positioning systems for example.
How can we help?
Get in touch with us! Are you interested to learn more about the Dutch Approach? Feel free to contact us and we are happy to tell you more!